DESIGN: One very important step is to ensure you create a good basic diagram of your kitchen.
If you're not comfortable with home renovations or taking accurate measurements, then we strongly recommend you get in touch with someone who is, like a skilled local cabinet maker. However, if you have a fairly simple design and/or you are confident with taking accurate measurements, then please download our order form. Follow this guide to help with the quoting/ordering process.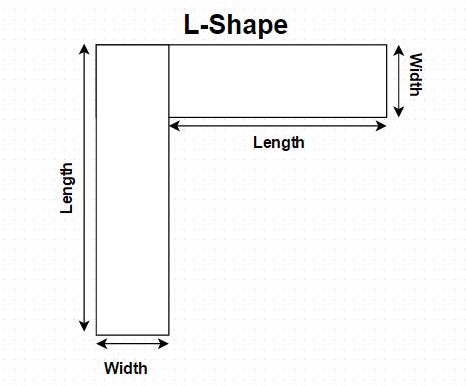 LAMINATE: Choosing a laminate that you love and will suit your style is probably a good start.
There is a huge range of colours, patterns, textures and finishes from various manufactures. You can view laminates online (click
on the supplier links below 
to view their products page); but we recommend you
visit our showroom or
your local cabinet maker as samples and textures vary greatly.
Also keep in mind that cost can vary considerably and not all laminates are suitable for all purposes.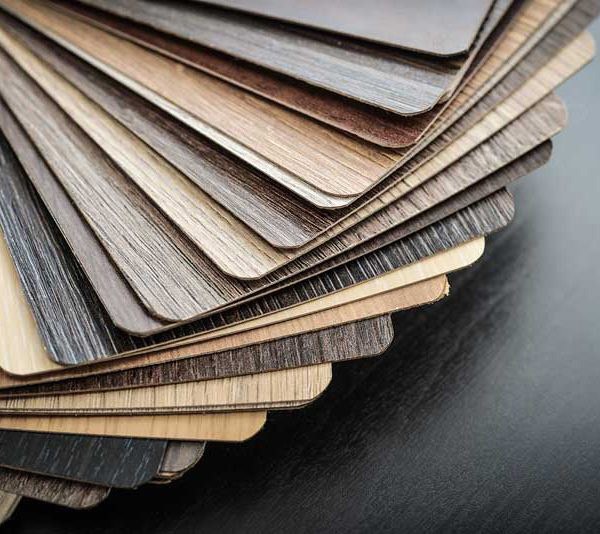 PROFILE: It is also important to decide on the benchtop profile finish.
There are various profiles but the most popular are shown in more detail below.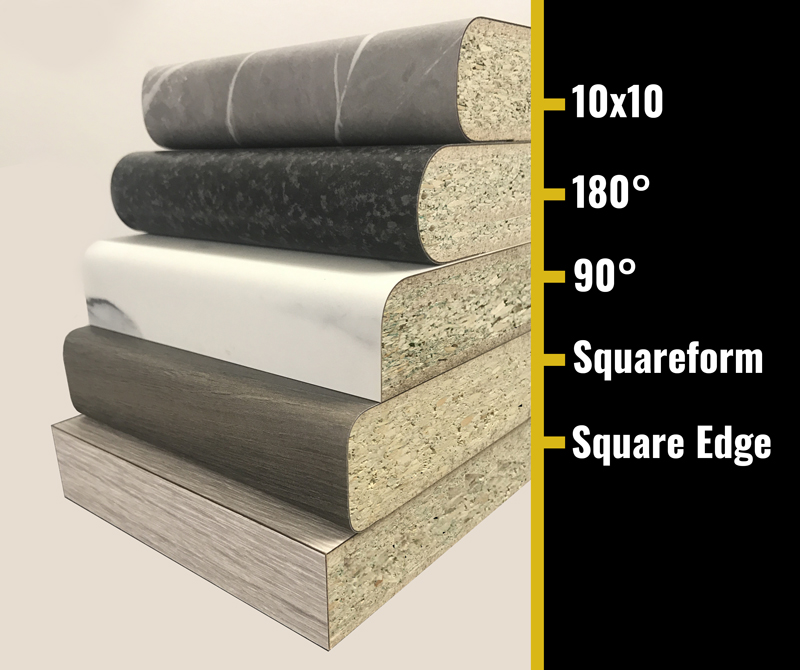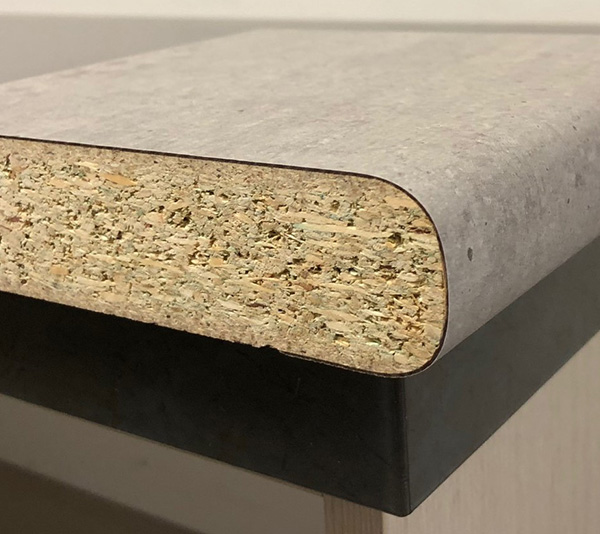 10x10
The most common profile. Not only does it look good, but almost any laminate can be formed to a 10mm radius postformed / rolled edge.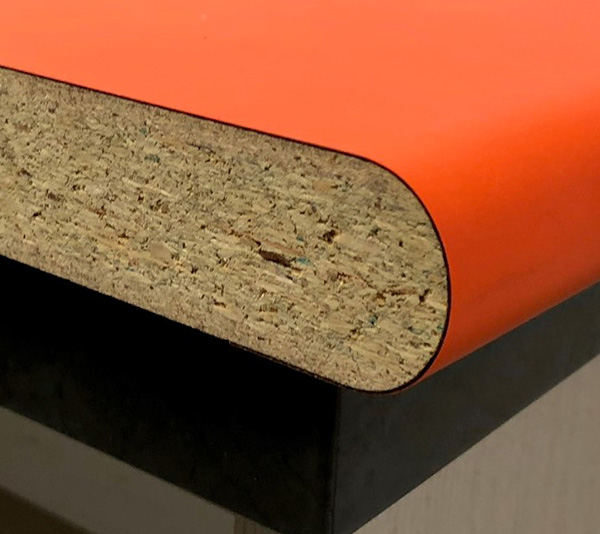 180°
Also known as bull nose. This is more rounded than the 10×10 profile. It is a practical and conventional postformed / rolled edge.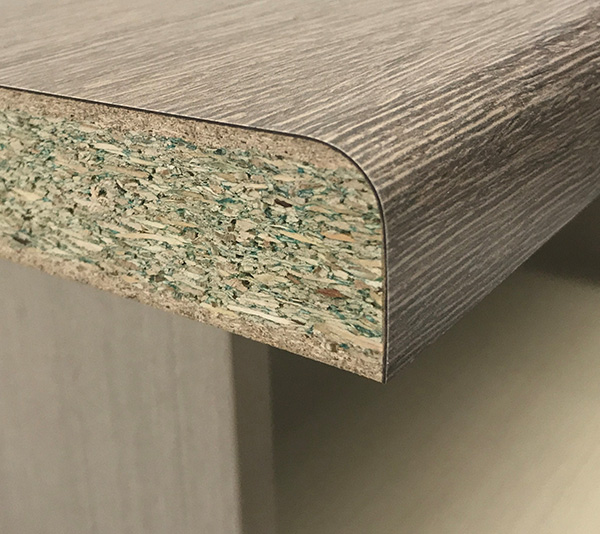 90°
Although not very common anymore 90° is still used for for drop fronts / vanities and aprons.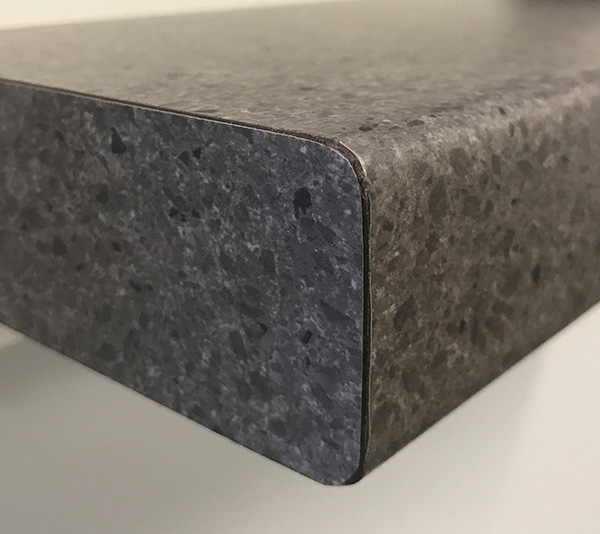 Squareform®/Tightform/5x5
A premium profile finish. It is modern looking with close resemblance to stone tops. Laminex have a range suitable for this profile in patterns or a wood grain. 
Solid colours and gloss finishes cannot be finished in this profile.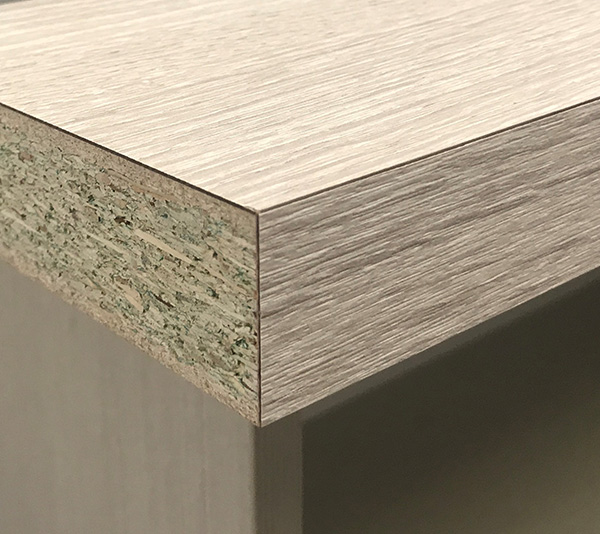 Laminate Square Edge
With the right choice in laminate, this finish can give a modern sophisticated look and works especially well with wood grains and textured finishes.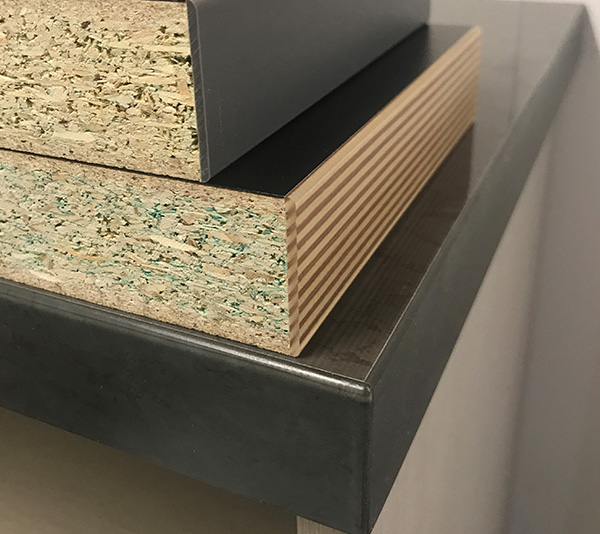 ABS Edge
Made by applying 2mm PVC or 2mm Acrylic (gloss edge). This finish is stylish and very hard wearing with bevelled top and bottom edges  giving it an ultra-tight modern finish
.
Note: Not all laminates have a matching ABS available
.
THICKNESS: You will also need to think about the preferred thickness* of your tops.

If you are replacing existing tops you  should consider having the new tops made to the same thickness especially if you are trying to avoid replacing any splash backs or tiling. Our standard thickness options are 33mm or 39mm.
We also offer non-standard thicknesses. For example we can Squareform® a 20mm profile benchtop, which (with the right laminate choice) can closely mimic a modern thinner stone finish at a fraction of the cost. The photo also shows a 25mm 10×10 profile and how these non-standard thicknesses compare with a standard 33mm 10×10 benchtop.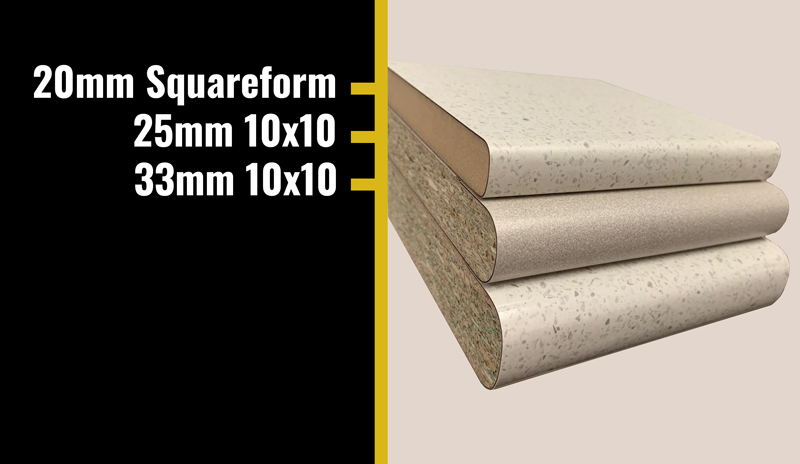 *Please note there can be a slight variation of approximately 1mm in the finished product thickness due to board or laminate manufacturing variations.
CORNERS: 

The corner finish is a further consideration.
Typically for square profiles (ABS & Square Edge), the corner will be a 'squared off' 90 degree corner with perpendicular edges (see photo). For rolled /
postformed
tops we need to fabricate the corners. See the options below.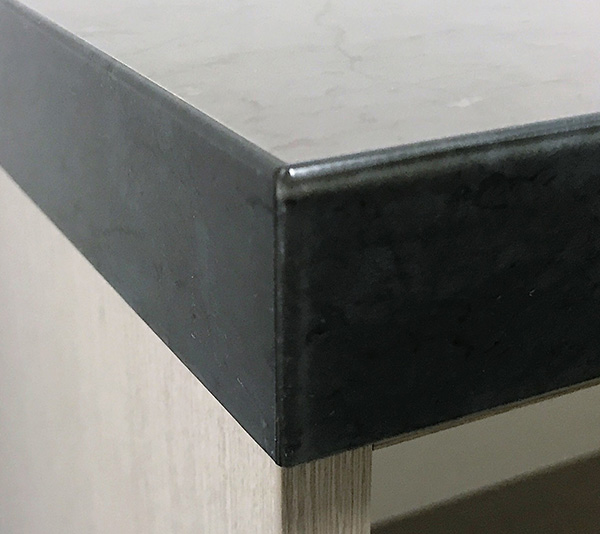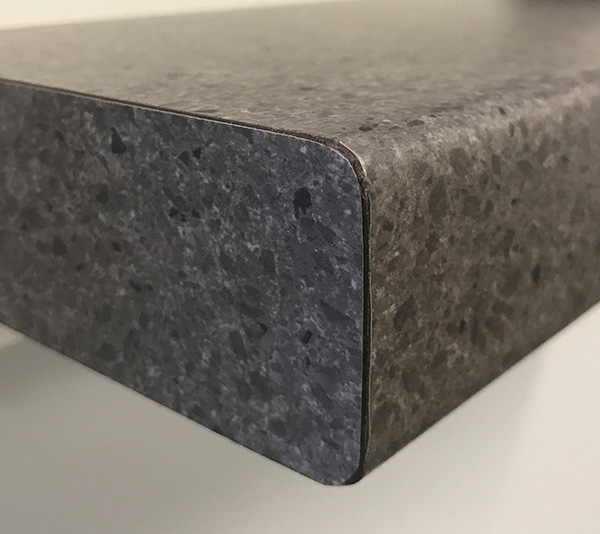 Laminated End
This style of corner is typical where the laminated end and
postformed 
edge meet. This standard 'laminated end' is a 'squared off' looking corner (no rounding or trimming of the corner).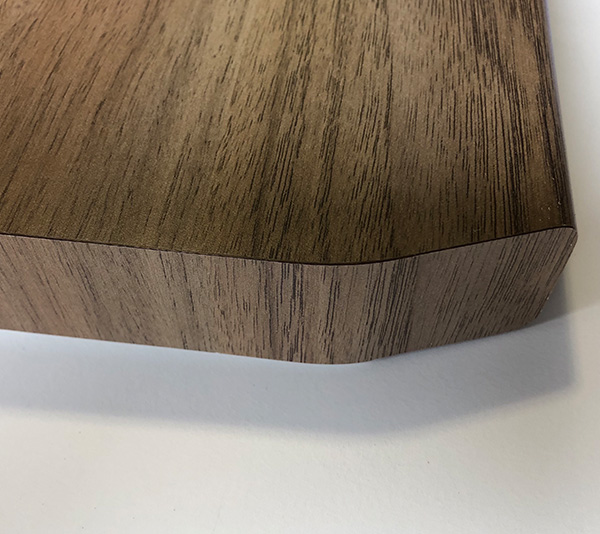 Jig End
An alternative option, also used where a  laminated end and
postformed 
edge meet. If your benchtop is in a high traffic area prone to getting bumped then this might be a good option to 'round off' or soften the corners. 
Frogs Eye
This style of corner
is the default 
fabrication when there are two adjoining edges that are
postformed
.
Alternatively you can upgrade and select a mini-form corner.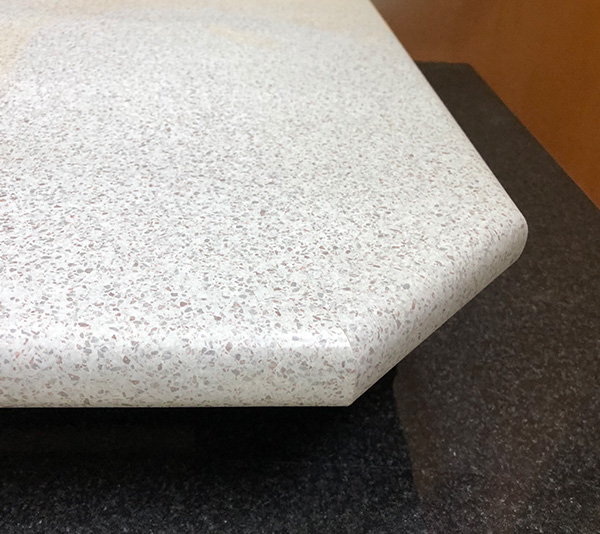 Mini-Form
This corner creates a more  consistent
postformed 
profile than having the frogs eye and
with the right
laminate can appear almost seamless.
Fabrication of a mini-form corner is a premium option
.
DROP FRONTS: This is 

an option that can also be fabricated.
They are popular for vanities but also for other areas as a design feature to give the appearance of a thick benchtop. Often drop fronts are inserted into an area with walls either side. However, sides can also be added to a drop front if there is a seen end(s). The profile can be rolled in 90
°
(10mm radius)
Squareform® 
& Square Edge. The photo shows a Square Edge drop front.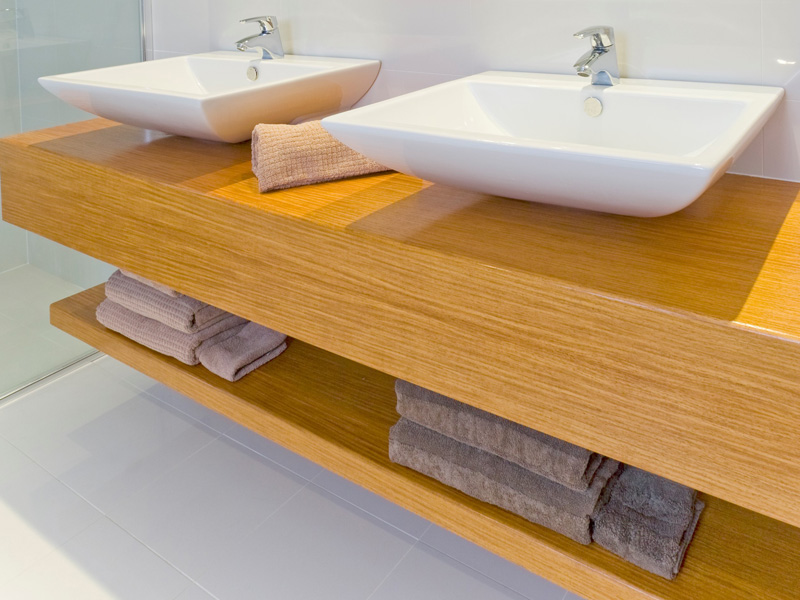 WATERFALL ENDS: Create a continuous benchtop that 'waterfalls' to the ground.
This can be used to create a modern feature end. It is typically used on one or both ends of an island bench or on the end of a bench.
For a premium designer finish we can fabricate a mitered waterfall. It budget is a limiting factor then you can still opt for a waterfall and request a butt-under waterfall join.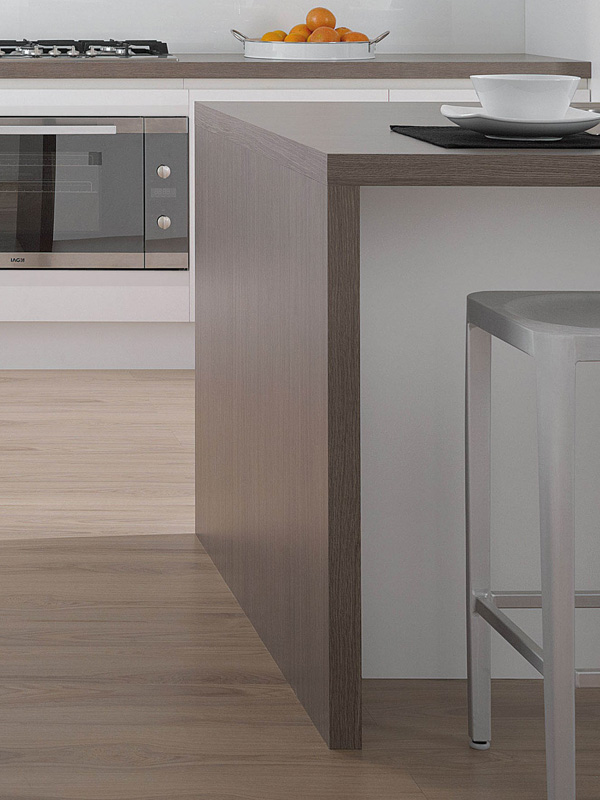 FINALISING ORDER: Now you've reviewed the ordering guide and other reference material you might be ready to get a quote or place an order.